Adhesive and Sealant Source
Our adhesive pumps and source equipment allow all types of adhesives and sealants to be pumped from their original container and moved into the dispensing process. Our ram-style pumps pull material from top to bottom ensuring that waste is minimized.
Why GP Reeves Adhesive Pumps & Source Equipment?
To begin your material's journey through its dispensing process, you'll want to trust it to a reliable, effective, and innovative source system. At GP Reeves, we've combined decades of experience with masterful material expertise to create the most advanced adhesive and sealant pumping solutions possible. Our engineers have worked hard to develop a variety of single and double post ram pumps and pressure pots to provide a plethora of options for your material's most optimal dispense. Customers around the globe have been satisfied by our collection of adhesive and sealant sources. Some of the most recognized benefits they've noticed include:
Enhancements to properly maintain materials with unique curing properties
Reduced material waste due to top top-to-bottom pumping
Customized options ensure every specific need is met
Reliable options for high and low-pressure systems
GP Reeves Customer Testimonial:
"We received a custom source solution for our UV cure material and it has worked out great. We're thrilled with the quality of the product and the efficiency it allowed us to attain"
Adhesive Pumps & Source Solutions
GP Reeves has meticulously studied and analyzed a variety of material needs to ensure we're able to accommodate even the most complex materials with a revolutionary source solution. We've developed an innovative line of standard products to assist in a variety of adhesive/sealant dispensing efforts. The source systems we've designed are effective for getting a material from its original container to the rest of the dispensing system. They can be used for a variety of challenging materials and pressure needs. In addition to our collection of standard products, our team is also eager to customize equipment to meet your specific needs. We've alleviated the pain points of warehouses all over the world with our custom options. For a free consultation or demo, get in touch with us today!
Adhesive Pumps  & Source Selection Guide
When selecting a source for adhesive and sealant materials, you should consider the material you are dispensing and the way in which it cures. We have pumps that are enhanced to protect certain types of materials, such as UV or moisture cure. Once you know your material, assess what size container you'll be purchasing it in, this will be critical when choosing options on your source equipment. Determining the material's consistency is also helpful as we have specialized pumps for materials on both ends of the viscosity scale.
Single Post Pumps (GSP and GSPM)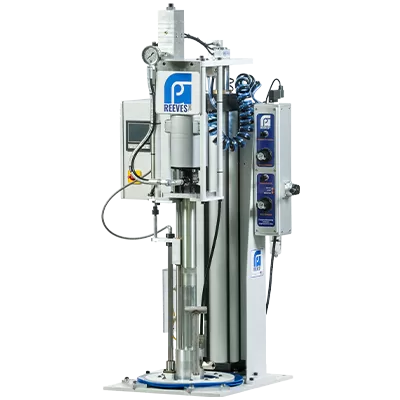 Single post ram pumps are engineered for production material supply and work best for small to mid-size containers. These sources assure a reliable supply with material that doesn't seek its own level.
Dual Post Pumps (GDP, GNDP, and G6DP)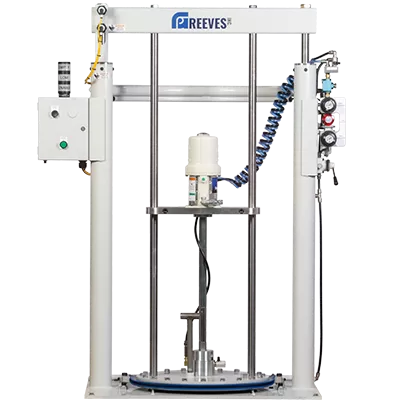 Dual post ram pumps feature dual posts which supply extra stability in the pumping process. These air operated ram pumps are engineered for viscous materials in large drums. 
Miniature Dual Post Pumps (GDPM)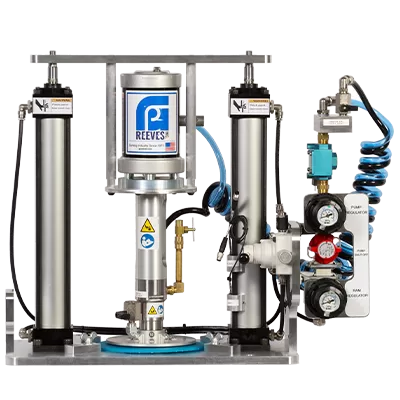 GDPM series air-operated pumps are miniature dual post ram pumps engineered with a compact design for use with small pails. These can be beneficial when working with highly reactive materials.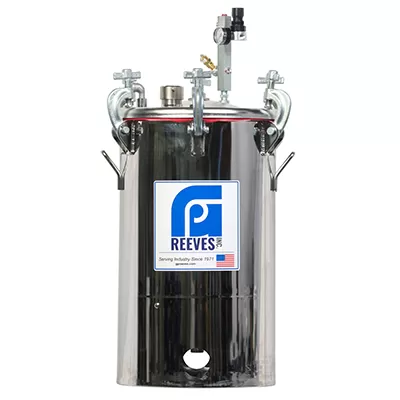 Pressure pots (also known as pressure vessels) are a great alternative to a pump and are for use with low viscosity materials.
MeasureMelt Hot Melt Dispensing
Available in both tank and unloader styles, the MeasureMelt series heats, pumps, measures, and dispenses hot melt material.