Custom Dispensing Equipment
Our custom dispensing equipment is unlike anything featured in our catalogs or on our site, as it is crafted and configured to your specific and unique needs. GP Reeves has created custom sources, dispensers, nozzles, valves, and so much more. We offer complete custom systems and can configure almost any piece of equipment to get your material from point A to point B with precision, reliability, and dependability. We welcome any dispensing challenge your manufacturing procedure may contain.
Since our inception in 1971, GP Reeves has been creating custom dispensing equipment. With an emphasis on uncovering new and innovative solutions, we go the extra mile to solve challenges, whether known or unknown. As dispensing experts in a wide range of industries, we have the knowledge and skills necessary to craft a custom dispensing solution for your specific application. At least 50% of our projects have some custom element, whether it be a small nozzle or an entire dispensing system.
Go Custom to Meet Your Dispensing Needs
Custom solutions configured by GP Reeves allow your production and manufacturing processes to occur with more efficient, effective, and productive operating procedures. Our engineers work rigorously to evaluate the unique needs of your materials and applications to optimize a dispensing system that is a perfect fit. By implementing a customized dispensing system, you are guaranteed to have more accuracy, precision, and reliability. Our solutions have been proven to save time, material, labor, and production costs.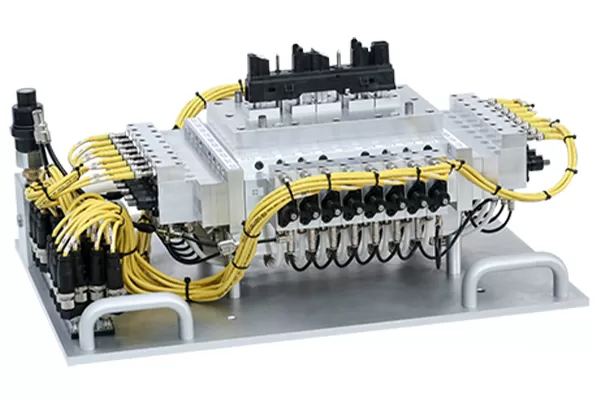 Tooling and Nesting
Customizable tooling and nesting options are available from GP Reeves. We have engineered various tooling and nesting systems to meet the needs of a wide range of industries and their creation is drawn from our hands-on experience. Custom nesting is often the easiest way to ensure grease is dispensed in every part it's required. Custom nests take on the responsibility of remembering every single spot on your part that requires lubrication, allowing your team to focus on more important aspects of the assembly.
Turnkey Systems
GP Reeves specializes in manufacturing systems that are completely programmed and ready to be used upon arrival. We tailor custom turnkey dispensing systems for the aerospace, agriculture, automotive, consumer product, energy and natural resources, heavy equipment, medical, and recreational vehicle fields. Turnkey systems can range from containing 90% standard product with a custom part nest at the end to fully automated robot cells with custom nests, nozzles, and programming.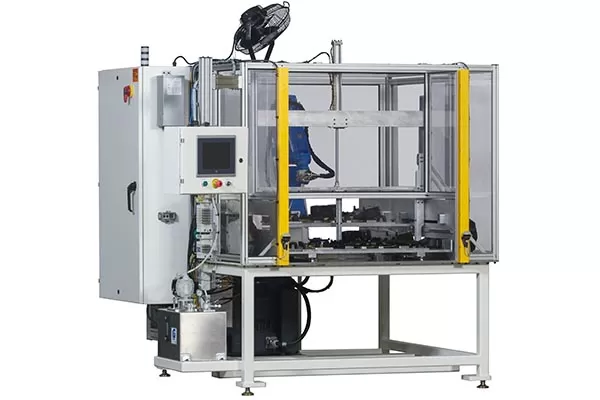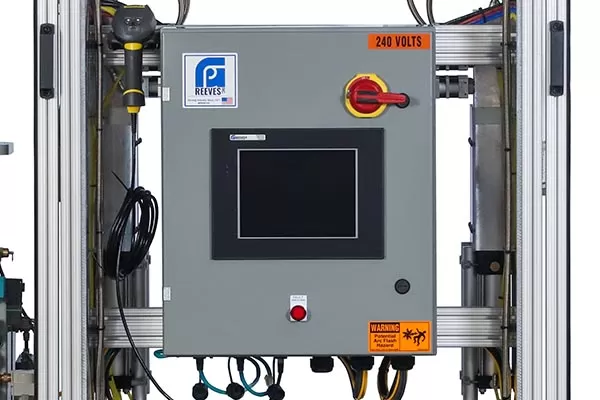 Programming and Controls
The experts on our controls team have continuously succeeded in providing reliable custom programming and control equipment that delivers accurate and precise information regarding your specific production mechanisms. Our solutions have been utilized in a vast array of projects within a wide range of industries.
Our Process for Custom Dispensing Equipment
When working with GP Reeves to create a custom dispensing solution, we dedicate the time and energy necessary to ensure that the dispensing system is tailored and perfected for your unique operation. At the start of the process, our engineers analyze and evaluate your needs, the materials, surfaces, and environments involved. Our team then works on creating the best parts for your processes and programming a system to deliver a proper dispense. With our state of the art lab and testing facility, we have the ability to test and prototype your desired dispensing application to verify feasibility and functionality. We replicate the materials, applications, and environments of the dispense process as much as possible to ensure that the turn-key equipment is as best as it can be. GP Reeves also offers installation assistance and follow up support for all of our products.
Have a Custom Project in Mind?
We'd love to help! Provide a few details and your information in the form below and we'll follow up.