Adhesives and Sealants End Point
GP Reeves offers a variety of end points to deliver various adhesive and sealant materials in the exact volume, size, and shape needed for a proper dispense. Our engineers have crafted options suitable for the curing conditions of a wide range of materials, verifying that your material will be dispensed with ease. Utilizing a GP Reeves end point ensures the end of your adhesive and sealant application is accurate to your exact dispensing needs.
Why Adhesive & Sealant End Points from GP Reeves?
GP Reeves has cultivated a reliable line of end point devices to ensure even the most complex adhesive or sealant materials are delivered to a surface area as precisely as possible. Our engineers have spent years ensuring our end point solutions satisfy the needs of a range of material properties. We have end points suitable for moisture-cure, two-component, UV-cure, RTV, TIM, and more. Some benefits favored by previous customers have included:
Dependable shut-offs mean minimal wasted material and intense reliability
Configurations for unique adhesive and sealant material curing means operators can trust in secure material management
Customizable options allow for every unique need to be met in the end point design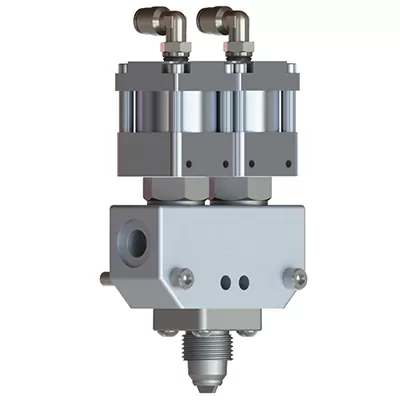 Adhesive & Sealant End Point Solutions
The team at GP Reeves enjoys the thrill of constantly innovating and inventing. As new and more complex adhesive and sealant materials continue to hit the market, GP Reeves continues to advance our equipment so that we can successfully propel yours. Our team is dedicated to amplifying your assembly line, so we've created a reliable line of adhesive and sealant end points to do just that. Additionally, we also specialize in customizing systems to meet your unique application needs. We've allieviated some of the biggest manufacturing pain points with the precision, effectiveness, and reliability of our adhesive and sealant end points. To elevate your production and relieve your own pain points, get in touch with one of our specialists today!
Custom Adhesive and Sealant Advantages:
GP Reeves loves customizing our own equipment to effectively propel yours. An example of this is a custom solution created to properly dispense RTV sealant on the transaxle housings of agricultural tractors. To view more of this application, look at the video on the right!
Adhesive & Sealant End Point Selection Guide
When considering the end point options for your application, consider the type of material in use. Materials with special curing requirements will require specialty nozzles. We offer a variety of standard nozzles that meet these needs, though we also offer extensive custom tooling options. It is also important to consider the surface onto which the adhesive or sealant product is to be dispensed. We have multiple valves and nozzles to accommodate specific surface areas and coverage needs.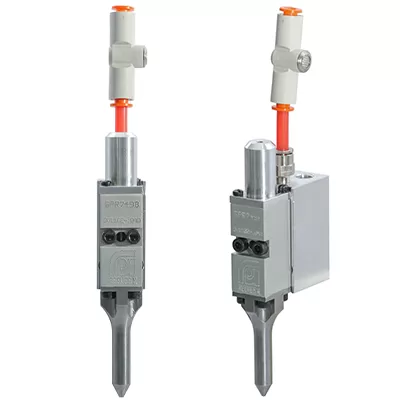 Dispense valves provide crisp shutoff when mounted at the point of dispense and can ensure materials maintain a precise pressure throughout the dispensing process.
Two-Component Dispense Valves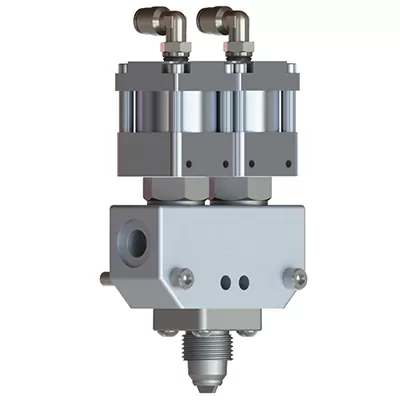 Dispense valves for 2k hold material pressure while maintaining independent operation of the A side and B side to keep materials separated until they reach a mixing tube.
Zone valves allow for dispensing multiple outlets based on a single inlet. This saves on having to utilize multiple dispensers and allows you to distribute to several stations through one dispenser.
Polycore valves are ideal for materials that are reactive with metal. The metal-free diaphragm valve can be used in measured or time-pressure applications.