Grease Source
The first step in a dispensing system is getting material out of its original container. Our grease pumps ensure nearly all the material from the original container is pumped out reducing material waste. GP Reeves has crafted a variety of grease sources to fit the needs of each grease dispensing procedure. We have single and dual post grease pumps along with reservoirs/regulators which are available in auto-fill and manual options.
Why a Grease Source from GP Reeves?
There are loads of options for choosing a grease source, but if you're looking for the best solution possible (which I'm sure you are), your best bet is GP Reeves. We've been in the dispensing business for over 5 decades, and we're fully committed to ensuring you receive an advanced, reliable, and effective dispensing solution. Some common benefits of our grease sources include:
Significantly reduced material waste

Advantages for a wide array of grease material viscosities

Minimal to no exposure to air within the system

Strong and durable to provide extreme production stability
GP Reeves Customer Testimonial:
"The
grease pump I received from GP Reeves completely changed the game for my assembly process. It's reliable, efficient, and works better than I could've ever imagined. I'll
definitely be
choosing GP Reeves for future dispensing projects"
Our Grease Source Process
GP Reeves is dedicated to providing you with the most advanced grease dispensing solution possible. With our years of dispensing expertise, GP Reeves has developed an innovative line of standard products to assist in a variety of grease pumping efforts. From analyzing various types of grease to examining the conditions of various production procedures, our team of skilled engineers have worked hard to ensure our standard grease sources are practical, dependable, and efficient. Along with this wide array of standard grease sources, our team is also enthused to tailor custom solutions to your specific needs or application requirements. To speak with a specialist about what standard unit or custom option would amplify your grease dispensing process best, get in touch with us today!
Grease Pump in Action:
One example of our grease source is the GDP. This dual post air-operated pump is reliable with thicker dispensing material that comes in a wide variety of control, pumping and sealing options. Interested in the GDP? Watch our product video for more information!
Grease Source Selection Guide
Before selecting a grease source, it's important to determine how the grease will be purchased. Our single and dual post pumps are designed to work seamlessly with all common container sizes. In addition to container size, the viscosity of your grease is important to consider as some of our pumps are optimized for thicker materials. In addition to standalone pumps, we also offer reservoirs/regulators. Multiple grease reservoirs/regulators can be connected to or filled by a single grease pump which increases the possible dispensing systems from a singular grease source. 
Single Post Grease Pumps (GSP, GSPM)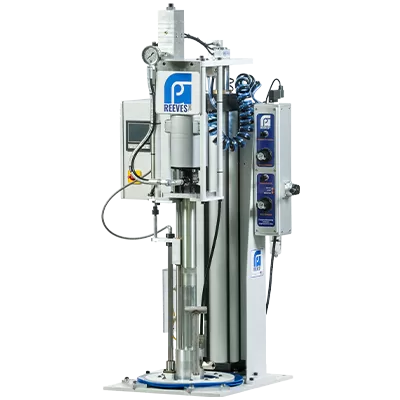 Single post, air operated, ram pumps are designed for small to mid-size containers and ensure all material is pumped from the pail, reducing material waste. 
Dual Post Grease Pumps (GDP, G6DP, GNDP)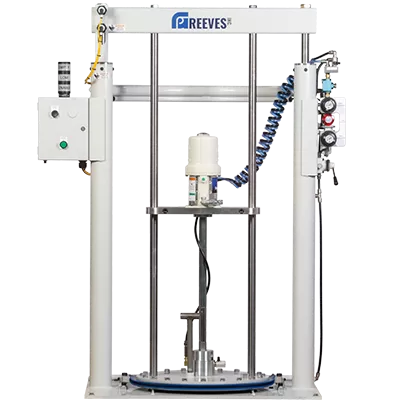 Dual post, air operated, ram pumps pump all material out of your container and are designed for mid to large size containers. GNDPs and G6DPs have been optimized for viscous materials that require more down pressure to flow.
Miniature Dual Post Grease Pumps (GDPM)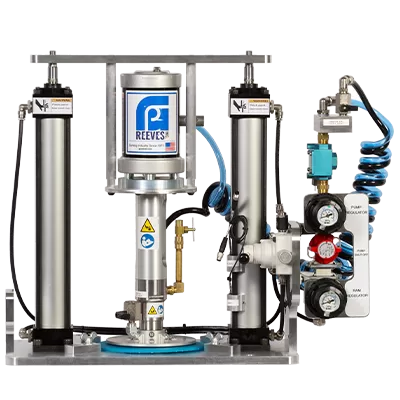 Miniature dual post, air-operated, ram pumps are tabletop pumps engineered for pumping greases out of pails and buckets with less than one gallon capacity.
Grease Reservoir/Regulators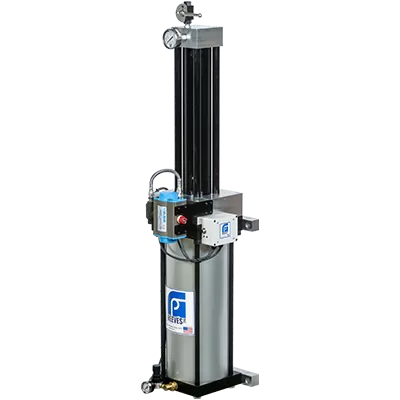 Available in both manual and auto-fill options, reservoirs/regulators allow material to be stored while regulating the outlet pressure.