Miniature Dual Post Ram Grease Pumps (GDPM)
The miniature Dual Post Ram Grease Pumps from GP Reeves offer the reliability and dependability of a Dual Post Ram Grease Pump in a compact, bench-top design, allowing for convenient usage in tighter spaces.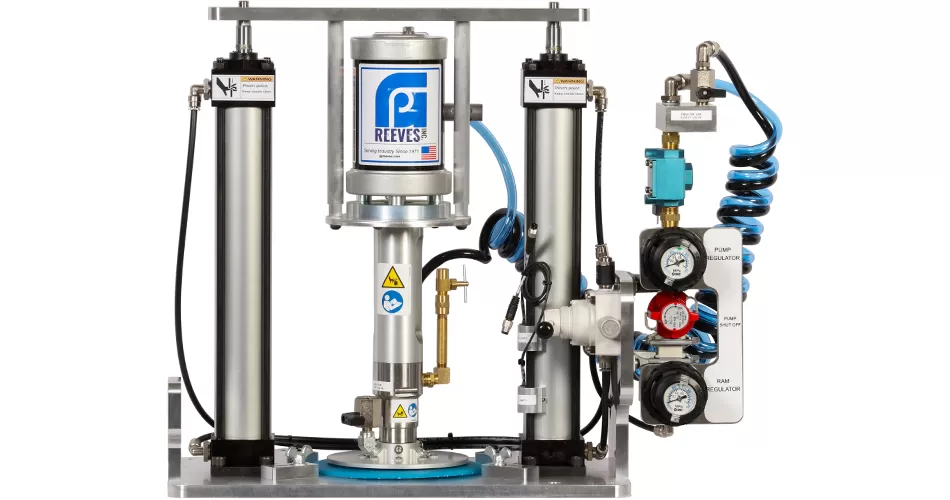 Features and Benefits
GDPMs provide strength and stability from the dual post ram and the system's compact size, making it perfect for even the thickest of greases.

Our ram style pumps pump all the way to the bottom of your pail, reducing the potential for wasted grease.

This system has been designed for convenient tabletop operations, allowing you to pump grease in even the snallest of workplaces.
Configuration Options
GDPMs are available with several optional add-ons to ensure you have the best solution possible! Some of these configurations incude:
Pneumatic Cam Actuated Empty Shut Off

Level Sensors

Solenoid Valve

Plumbing and Mounting of a GF1000 Series Filter
Product details
Our Miniature Dual Post Ram Grease Pumps serve as an efficient production grease supply with a consolidated design, making them great for use with smaller sized pails and buckets. GDPM series air-operated grease pumps assure a stable supply with material that doesn't seek its own level. The dual rams partnered with an inductor plate allow grease to be pumped from the top of the bucket rather than the bottom, like a stick pump. This, combined with the constant downward pressure of the inductor, is how we ensure minimal grease waste.
Additionally, this series of grease pump can be bench top or back mounted and is available with several configurable options. All GDPM pumps include a grease pump, inductor seals, dual post ram, ram control valve, pump air pressure regulator, and ram air pressure regulator.
GP Reeves Customer Testimonial:
"Our GDPM experience has really made a positive impact on our warehouse! For our application, we need a reliable supply of pretty thick grease. GP Reeves made sure we didn't have to compromise on any part of the pump process."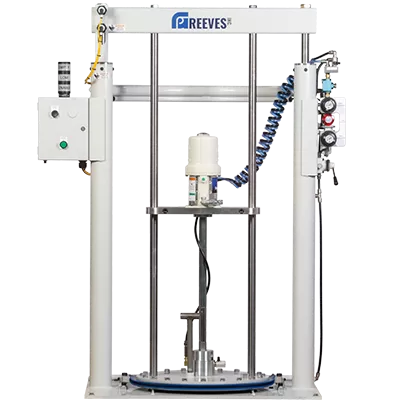 Reservoir/Regulators for Grease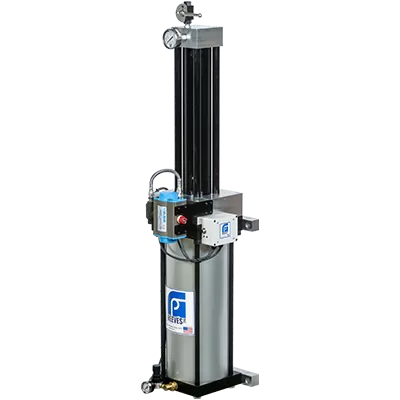 GDPMs for Adhesives and Sealants