Dual post ram grease pumps
Our Dual Post Ram Grease Pumps include our GDP, G6DP, and GNDP. The ram-style of these pumps allows the utilization of nearly all grease material in your container, without needing any pump adjustments. Our standard GDP is perfect for NLGI 00-2 grease, while more viscous greases might require a G6DP or a GNDP, depending on the size of the grease container. No matter your model, you can be assured that you'll receive a reliable, durable, and beneficial grease pump!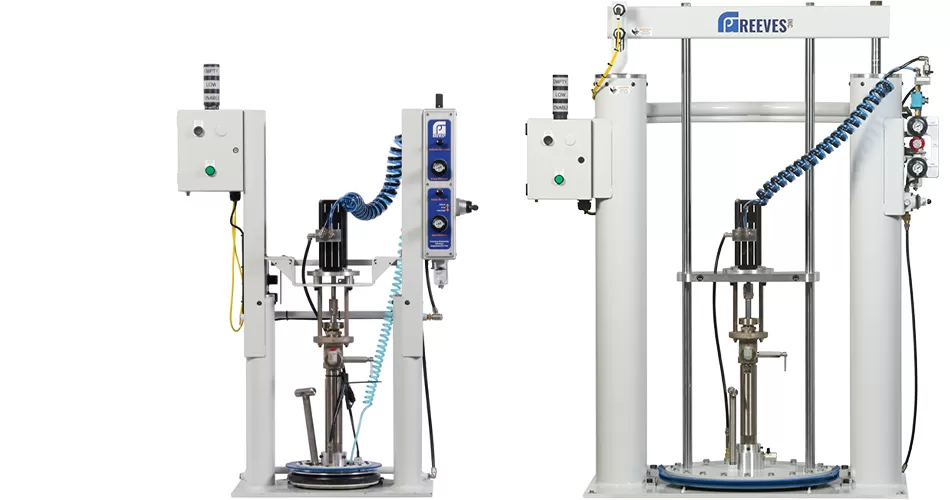 Features and Benefits
Dependable and sturdy due to the extra force capabilities by two post ram pumps.

They pump all the way to the bottom of your container, reducing the volume of wasted grease

These grease sources keep pump suction "off the floor", to minimize debris in the grease during a container change and keep the overall process much cleaner




Various ram options are available so you can properly accomodate all grease viscosities
Configuration Options
Boost Ratios

Pneumatic Cam Actuated Empty Shut Off

Level Sensors 

Solenoid Valve 

Plumbing and Mounting of a GF1000 Series Filter

Pneumatic Two Hand Safety Kit

Standard or Customized Control Panels and HMIs

Auto-Depressurization

Grease Material Recirculation

Roller Bed for Easy Drum Changes
Product Details
Dual Post Ram Grease Pumps have been meticulously engineered to provide an air-operated option for reliably supplying thicker greases that don't seek their own level. Our other models of single post grease pumps provide a limited amount of pressure, so they may not be as capable of handling thicker greases as our dual post ram grease pump options. The force capacities of the dual posts make this pump stronger, so thicker grease can be pumped more easily. The ram-style pump combined with the inductor plate allows grease to be effectively pushed down in the container, ensuring the pump holds its prime and reduces unnecessary grease waste. 
Our Dual Post Ram Grease Pump series is available with 3" or 6" rams, multiple inductor seal options, a wide range of pump ratios, and a variety of control options. Standard GDPs are commonly used for large drums of NLGI 00-2 grease, whereas G6DPs are perfect for large drums of thicker grease, and GNDPs are made for smaller pails of grease above an NLGI 2. If your material source is smaller yet, our GDPM series has all the perks of this series in a compact, bench top design, engineered for containers around 1 gallon. All pump options include a pump, inductor seals, dual post rams, ram control valve, pump air pressure regulator, and ram air pressure regulator. To find which option might be best for your grease dispensing process, get in touch with one of our experts today!
Instructional: Container Change
Troubleshooting: Run-Away Pump Condition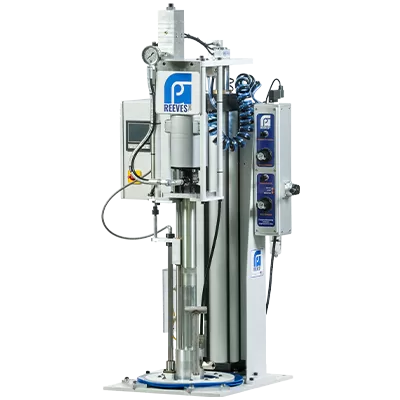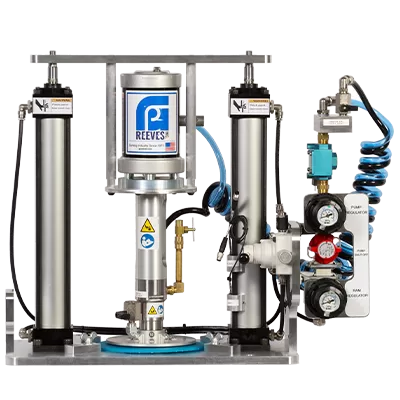 GDPs for Adhesives and Sealants