Single post ram grease pumps
Our single post ram-style pumps include the GSP and GSPM Series. These mid-size pumps are designed to consistently pump materials all the way to the bottom of the pail, significantly reducing the amount of grease wasted.
Features and Benefits
Reliable and dependable pumping through the stability provided by a strong and durable post.

The ram style pump minimizes air in your system versus simple stick pumps.

Systems pump all the way to the bottom of your pail, reducing the volume of wasted grease.

These grease sources keep pump suction "off the floor", to minimize debris in the grease during a container change

The GSPM is designed to fit in smaller locations than GSP.
Configuration Options
Boost Ratios

Standard or Customized Control Panels and HMIs

Auto-Depressurization

Recirculation

Pneumatic Cam Actuated Empty Shut Off

Level Sensors

Portability Kit with Castors and Handle

Dispense Handle 

Plumbing and Mounting of a GF1000 Series Filter
Product details
Single post ram grease pumps provide an air-operated system for reliable production supply with viscous material that doesn't seek its own level. Unlike stick pumps, our ram pumps use an inductor plate to push material down in your container, reducing all unnecessary adjustments and minimizing the amount of air that enters your system. Our GSP and GSPM pumps are designed to ensure you can pump material at the bottom of your pail, which significantly reduces the amount of material wasted. The design of these pumps allows the pump suction to hang in the air during container changes rather than having to put it on the floor. 
GSP/GSPMs pump grease right out of its original container, so you can begin the dispensing process in an efficient manner. Plus, our Miniature Single Post Ram Pumps (GSPMs) provide a more compact design than the standard GSP model, helping users who need a design fit for a smaller location. These Miniature Single Post Ram Pumps also have an optional portability kit, making them easy to roll around and fill reservoir/regulators. All pump models include the pump, inductor seals, single post ram, ram control valve, pump air pressure regulator, and ram air pressure regulator. These pumps will work with NLGI 00-3 materials and are available in a variety of configurations.
Instructional: Container Change
Troubleshooting: Run-Away Pump Condition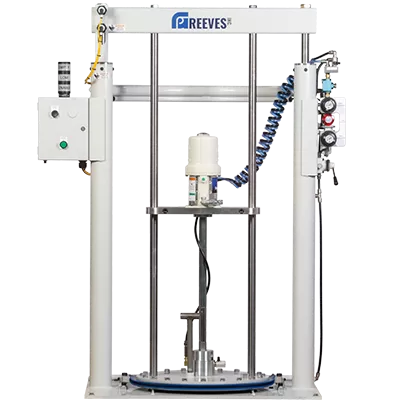 Grease Reservoir/Regulator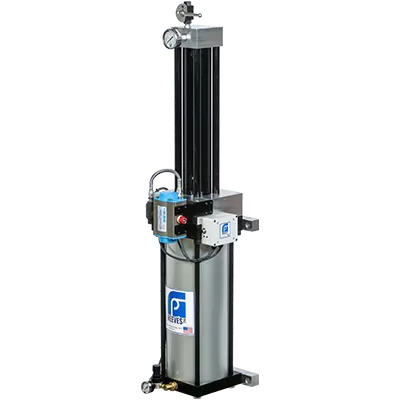 GSP for Adhesives and Sealants