Single Post Ram Pumps (GSP and GSPM) for Adhesives and Sealants
Air-operated single post ram pumps engineered for production supply of adhesive and sealant materials.
Features and Benefits
Single Post Ram Pumps are reliable and dependable due to their sturdy post.

Specialized options for UV cure materials are available.

Optional heated inductors and hoses provide extra flow support for viscous materials.
Nitrogen blankets are available to protect moisture cure materials.

This system pumps all the way to the bottom of your pail, preventing adhesive or sealant leftovers.

The use of a GSP and GSPM keeps pump suction "off the floor", so your process is much cleaner.
Configuration Options
Pump Motors

Inductor Seals

Level Sensors

Control Panel

Heated System

Nitrogen Blankets
UV Blackout Cover
Product details
Single post ram pumps for adhesives and sealants provide an air-operated system for reliable production supply with viscous adhesives and sealants that don't seek their own levels. Unlike stick pumps, GP Reeves ram pumps use an inductor plate to push adhesive and sealant materials down in your container, reducing all unnecessary adjustments and minimizing the amount of air that enters your system. GSP and GSPM pumps are designed to ensure material at the bottom of your pail is pumped, which significantly reduces the amount of material wasted. The design of these pumps allows the pump suction to hang in the air during container changes rather than having to put it on the floor. 
GSP/GSPMs pump materials right out of their original container, so users can begin the dispensing process in an efficient manner. Plus, the GP Reeves Miniature Single Post Ram Pumps (GSPMs) provide a more compact design than the standard GSP model, helping users who need a shorter overall height. This smaller model also offers an option with a portability kit, allowing the GSPM to easily roll to a reservoir/regulator for filling. All pump models include the pump, inductor seals, single post ram, ram control valve, pump air pressure regulator, and ram air pressure regulator. These pumps will work with most materials and are available in a variety of configurations.
GDPM for Adhesives and Sealants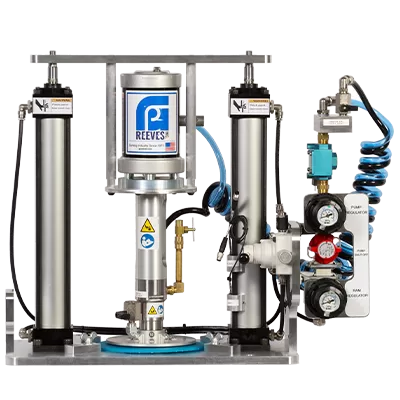 GDP for Adhesives and Sealants