Miniature Dual Post Ram Pump (GDPM) for Adhesive/Sealant Supply
Air-operated pumps engineered for adhesive and sealant production material supply with a compact design, making it perfect for use with small pails.
Features and Benefits
Reliable and dependable due the utilization of two sturdy posts.

GDPMs pump all the way to the bottom of your drum to prevent the presence of leftover adhesive or sealant materials.

Tabletop design is perfect for compact systems.
Configuration Options
Pump Motors

Inductor Seals

Level Sensors

Control Panel
Product details
GDPM series air-operated pumps are engineered for adhesive and sealant production material supply with a more compact design for use with small pails. These smaller dual post ram pumps are great for areas that might require a tighter squeeze or applications that don't need a large amount of adhesive or sealant material. This miniature ram pump assures a reliable supply with thick material that doesn't seek its own level. GP Reeves ram pumps push materials down using an inductor plate, reducing unnecessary adjustments and the presence of air. The design of the GDPM allows the pump suction to hang in the air during container changes rather than having to put it on the floor, reducing excess mess. The series is available for pails up to 10" diameter and up to 10" tall. All GPDM pumps are bench top mounted or back mounted and include pump, inductor seals, dual post ram, ram control valve, pump air pressure regulator, and ram air pressure regulator.
Dual Post Pumps for Adhesives and Sealants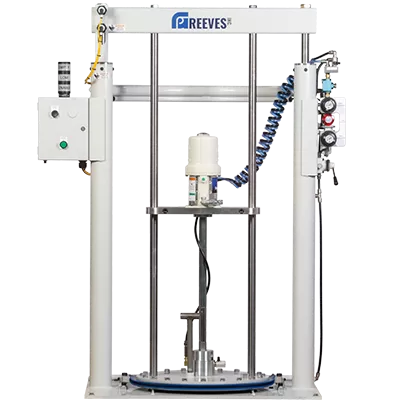 Single Post Pumps for Adhesives and Sealants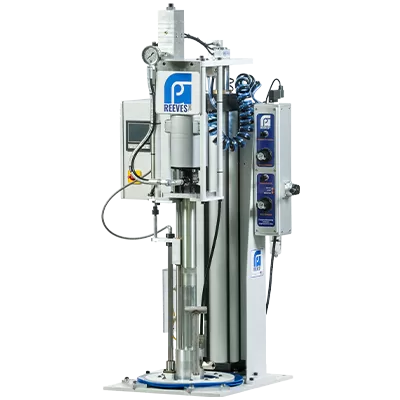 Pressure Pots for Adhesives and Sealants