Automated Dispensing Systems: Simplifying Production
As the world continues to evolve and progress, assembly lines and general production processes have to keep up. By implementing automated dispensing systems into production, you can save time, money, material waste, and more. For an automated fluid dispensing solution customized for your unique project, get in touch with the dispensing experts at GP Reeves!
Our Automated Dispensing Experience
The team at GP Reeves has been revolutionizing manufacturing production for decades. As industries continue to adopt new technologies, GP Reeves has continued to simplify and improve even the most challenging of assembly processes. Our ability to automate dispensing solutions has led to increased production capacity for a variety of warehouses across the globe. From completely customized cells with fluid dispensing robots to single servo-operated dispensers, GP Reeves has meticulously prepared a wide array of solutions to deliver integrators and customers alike with the most sophisticated automated dispensing operations possible.
Custom Dispensing Meets Unique Specifications

Turn-Key Solutions Propel You Forward
In-House Manufacturing Keeps Lead Times Short

Automated Dispensing
GP Reeves has cultivated plenty of unique fluid dispensing systems to accommodate even the most challenging of production necessities.  When it comes to automated dispensing solutions, customers and integrators normally experience benefits like:
Customized systems to meet unique concept delivery requirements
Repeatable and reliable automated dispensing that propels assembly operations ahead
Increased production effectiveness that increases efficiency and product quality
A team dedicated to the long-term prosperity of customer production
Enhanced warehouse sustainability, profitability, and growth potential
Automated 2K for Flex Circuits
Robotic Fluid Dispensing for Oil Filling
Video Transcript
A generator manufacturer came to us looking for an automated filling system for their generator assembly process. The generators move down a conveyor belt and aren't always in the exact same position, meaning our system would have to be smart a vision system that snaps two pictures of the generator and extrapolates the two-dimensional frames into a 3D map of the product.
From there, it is able to calculate the exact position of the opening to the engines and fill them with the precise amount of oil. Light curtains keep anyone or anything from entering during the fill process. This system is flexibly designed to work with multiple generator models and can be modified to add even more in the future.
This automated system is designed to save our customers time, money and labor in their assembly process. If you think that you have a problem that GP reeves can solve feel free to contact us using the information below.
Robotic Sunroof Rail Greasing
Video Transcript
Since 1971, GP Reeves has been innovating advanced, customized dispensing machinery to provide customers with the most advanced dispensing solutions possible. Our ability to innovate even the most challenging of applications is exemplified by our recent project of robotic sunroof greasing. For this solution, our masterful team utilized extensive knowledge of the automotive industry, our superior knowledge of greasing, and an unparalleled willingness to accommodate every customer desire. This solution is just one example of the many ways GP Reeves can help you simplify and advance your assembly line. To find out more, visit our website! https://gpreeves.com/industries/automotive/ 
Links and Contacts: – 616-399-8893 – salessupport@gpreeves.com 
Integrating Robotic Excellence
GP Reeves has a surplus of experience with various robot brands and manufacturers. We've used these to cultivate a variety of productive and masterful automated dispense systems. Some of the robots we've integrated with our products include:
Customer Testimonial
"GP Reeves really gave our ideas the time and effort necessary to make our assembly programs perfect. Their automated dispensing systems contributed to the success of our concept delivery. My team is thankful for their expertise and custom configurations"
– Automation Integrator
Integrators We've Worked With
Endless Material Potential
GP Reeves is committed to providing reliable and impactful automated systems integrators can depend on. Our extensive fluid dispensing capabilities have allowed us to design a multitude of automated dispensing systems compatible with a giant range of material types. Automated dispensing systems provide assembly lines with numerous benefits, and we want to ensure you can achieve these advantages no matter your application's material. Here are just a few examples of previous automated dispensing machines:
Automated epoxy dispensing systems
Automated engine oil dispenser machine
Robotic hot melt adhesive dispense cell
Automatic fluid dispenser for cyanoacrylate material
Cell with automated dispensing for adhesive thermal pastes
Lubrication unit with automated grease dispense machine
Robotic system for automated PTFE dry lube application
Assembly line structure for automated extraction and dispense of material
Adhesive dispense systems with custom nozzles and robotic positioning
Robot dispensing system for hot glue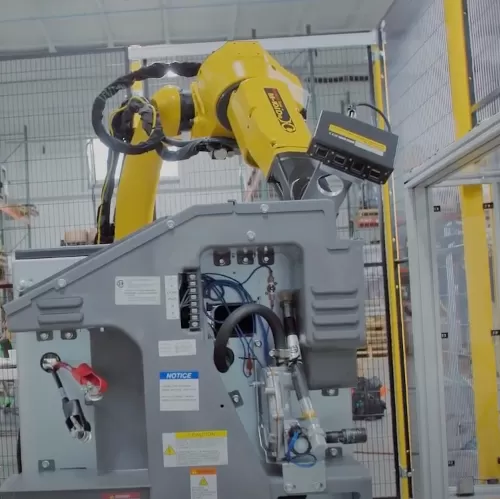 GP Reeves Gets It Done
From complete custom automated fluid dispensing systems to effective single dispenser units, GP Reeves can propel production processes ahead. Integrators trust us for our reliable solutions that provide extreme precision and efficiency. Get in touch with us today for a free consultation about what an automated dispensing solution from GP Reeves can do for you.
GP Reeves is an authorized level two FANUC integrator for FANUC America Corporation. Our team is grateful for this partnership and our relationship with the professionals at FANUC!