Oil End Points
Oil end points ensure that oil is distributed to a part according to your exact specifications. GP Reeves offers a variety of end points that ensure the needs of your application process are met. Whether distributing oil to a large surface area, or one that might have an uneven surface, GP Reeves is sure to supply an oil endpoint that meets your applications needs.
Why Oil End Points from GP Reeves?
From extrusion nozzles to dispense valves, we have a variety of options to ensure your oil is delivered effectively and reliably. The team at GP Reeves excels in ensuring your production line receives a precise and dependable option for oil dispensing. Our experts have designed oil end points that propel the success of quality assembly processes. Some of the reasons customers keep coming back include:
Top-notch equipment provides even and reliable coverage
Effective end point shut off means limited to no wasted material
Our end points provide supreme accuracy that's unmatched by competitors
Customized options allow customers to meet their most unique needs
Work in Action:
Oil end points from GP Reeves have contributed to innovations across industries and across the globe. One example of our prestigious oil end points involves inner diameter syringe coatings. For this application, spray nozzles were used to evenly coat the surface of the inner diameter of medical syringes. Take a look at this innovative solution below!
Our Oil End Point Process
The team at GP Reeves has spent years analyzing oil applications and examining the best practices for delivering oil to component surface areas. With a skilled knowledge of various oil materials and the parts they help to lubricate, our team has intricately designed a reliable line of standard products for use as oil end points. These devices have helped assembly lines across industries to successfully and efficiently lubricate necessary components with high quality and effectiveness. GP Reeves also offers a multitude of custom options to ensure your oil end point is as optimal as possible for your unique application. To elevate your oil material application, get in touch with one of our experts today!
Oil End Points Selection Guide
When selecting an end point for your oil dispensing processes, it's important to note how exactly you would like your oil distributed. Identify the pattern the material should be distributed in, the width/span of delivery desired, and the thickness of the oil being dispensed prior to talking to our sales team. We have curated a line of valves and nozzles to dispense oil onto a variety of surfaces at certain angles and in varying volumes to ensure accuracy for your specific operation.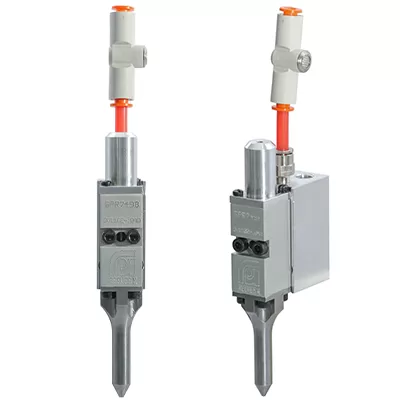 Dispense valves provide crisp shutoff when mounted at the point of dispense, can ensure material holds a steady pressure and are available in a wide range of configurations.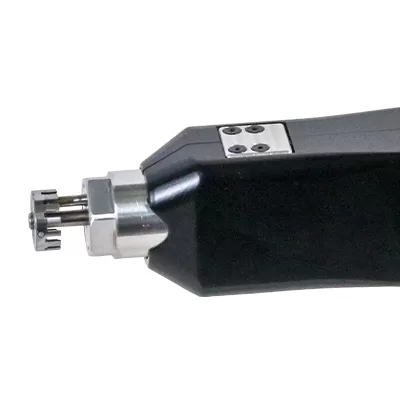 G-Force nozzles use centrifugal force to dispense material in a radial pattern on the inner diameter of a part in a film or ring patterns. The nozzle includes a check valve near the tip to prevent dripping.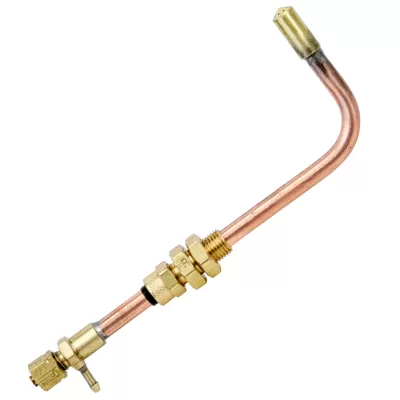 Spray nozzles atomize and spray material for an even dispense onto material. GP Reeves offers a variety of spray nozzles to meet the needs of your material and/or surface.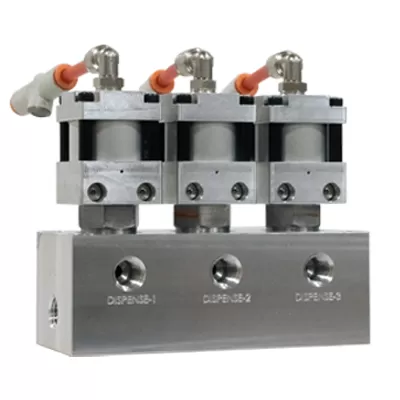 Zone valves are used between dispensers and nozzles to allow for the utilization of just one dispenser for multiple outlet stations.