Oil Dispensing Products
Oil dispensing is an integral part of the GP Reeves brand. Our very first product was a
lube logic chain lubricator
, and it paved the way for the continual innovation our brand has achieved since our inception in 1971. While chain lubricators are still available from GP Reeves and are currently used in factories from numerous
industries
, our focus has switched. The bread and butter of our company today involves ultra-precise dispensing systems. Our oil dispensing systems are used all over the world and throughout the facilities of today's most innovative industries.
Why Choose GP Reeves Oil Dispensing Products?
The team at GP Reeves prides itself on our advanced oil dispensing capabilities. We know the pain of trying to put together a variety of standard products from different companies, which is why we decided to make all products necessary for your top-notch oil dispensing system. Our standard product line includes oil reservoirs, pumps, dispensers, nozzles, and a large selection of accessories. In addition to our extensive standard product portfolio, we also offer a variety of custom solutions for exceptional oil material dispensing.
The team at GP Reeves has cultivated a wide range of products to properly maintain and manage the appropriate characteristics of oil material. Our systems have propelled the innovations of numerous global leaders in manufacturing, and we love creating completely new and customized systems for even the most unique of applications. The feedback we receive from customers about our oil dispensing products is always outstanding, but some of the things we hear about most often include:
Improved Production Capacity
Enhanced Workplace Safety
Decreased
Operational
Downtime
Initial Considerations
Fluid mechanics aren't easy – we get it. Luckily, we've done the hard part for you. All you'll need to know prior to designing an oil dispensing system with GP Reeves is what type of oil you're using, how it comes, and where you want to dispense it. Our standard oil products will work for all types of oil, along with many other liquids, though it's important to get us the chemical makeup of your material so we can prevent any unwanted reactions.
Once the material has been chosen, designing the rest of the system is easy. Choosing a source will depend solely on how your oil comes. If it comes in a suitable container, all you'll need is a pump. If the container your material ships in isn't right for your dispensing system, we have a variety of reservoirs available. Depending on how critical your application is, we offer oil filters and oil regulators.
There are a variety of dispensers in our oil line. Choosing one will be based on your volume requirements and what type of feedback you're looking for. Nozzles and other end of arm equipment will be chosen based on what type of application you have, along with any other accessories.
Our Experience with Oil Dispensing
GP Reeves has been dispensing oil since day one! We've delivered oil to a wide array of surfaces and have been involved in the applications of a large variety of industries. We've developed the most innovative oil dispensing systems on the market to aid in the proper oil delivery. Some examples of our recent oil-delivery projects include: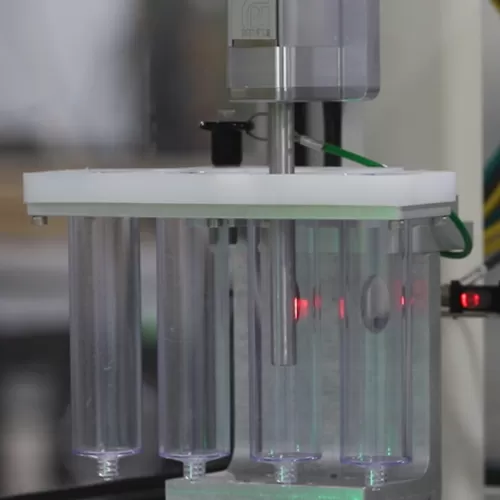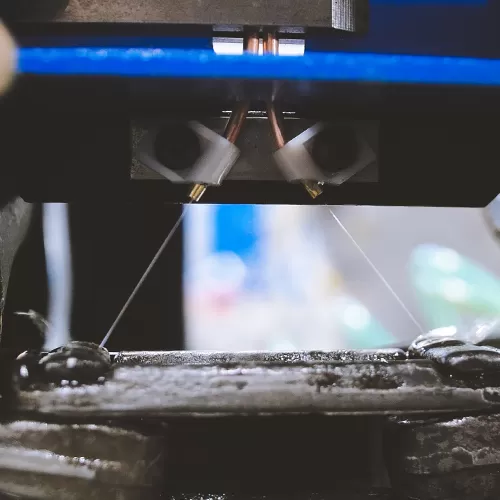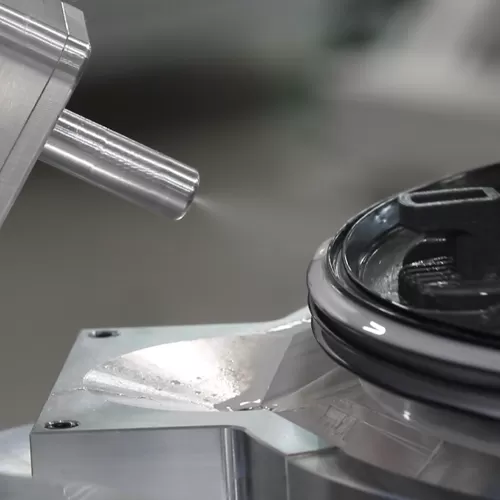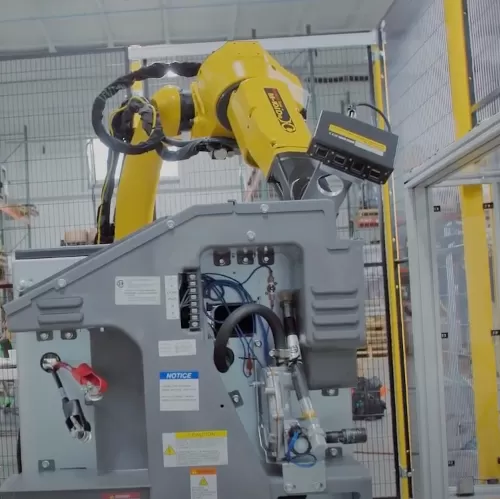 System Examples
The most basic oil dispensing systems consist of the pump, the dispenser, and the end tooling — whether that be a nozzle or a nest. Additional products could include a reservoir, a regulator, a filter, and some kind of confirmation device. We offer a variety of options for all pieces of your system.
When working with GP Reeves, we'll ensure that you get the products that will optimize your oil dispensing system. From start to finish we can work with you to pick out the best products for your application and make sure it's working just the way you had hoped once it's installed
What Does it Look Like to Get a Oil Solution from GP Reeves?
The team at GP Reeves has collected decades of experience solving some of the biggest oil application challenges. We've partnered with a plethora of OEMs, integrators, distributors, and end users to create custom solutions for applications such as robotic oil lubrication, oil applications to motor components, and oil delivery to advanced medical technology. While we can dispense oil to a wide range of applications, the process for each looks similar. The steps we take to provide you with the ultimate oil dispensing solution include:
Analyze
We analyze the goals of each project and assess the needs of each component. From surface characteristics to material specifications, our team will ensure the most optimum solution is crafted for your oil dispense.
Design
Once a complete application assessment has been conducted, our crew designs each part of the dispense system with unique capabilities, ensuring maximum production line potential.
Assembly
After the design has exceeded customer's expectations, we manufacture custom and standard products in house, ensuring our oil dispense system will effectively integrate with the customer's current processes.
Testing
GP Reeves replicates the eventual atmospheric conditions, oil materials, space, and any other essential factors to validate the oil dispensing process is functioning optimally.
Support
After feasibility and functionality are verified, we offer installation services and support for our oil dispensing products. We are dedicated to your production success for the long haul.