Dispense Valves for 2K
2K dispense valves deliver two separate materials at a steady pressure while maintaining independent operation of both materials.
Features and Benefits
Dispense valves for 2K provide for an independent operation of the A side and B side.

This device ensures that materials remain separated until they reach the mixing tube.

Dispense valves have options to handle up to a maximum of 1,500 PSI.

These devices are available with multiple valve options.

Adaptors are available to connect the valves to any standard mixing tubes.
Configuration Options
2K dispense valves are available in a variety of configurations:
Various Material Ports

Inline and Cartridge Valve Types

Assortment of Material Pressure Ratings
Product details
Dispense valves for 2K offer the precision and pressure steadiness of a dispense valve with an independent operation of A side and B side. The dispense valve for 2K works to make sure that the dispense pressure of each material is individually maintained, ensuring that proper ratios are dispensed to the mixing tube. GP Reeves offers multiple valve options and adaptors that are available to connect valves to any type of standard mixing tube. In addition, there are options for a maximum pressure of 1,500 PSI. Some versions of these dispensers even include a snuff-back device.
Dispense Valves for Adhesives and Sealants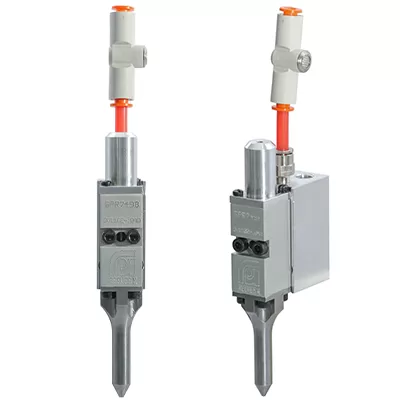 Zone Valves for Adhesives and Sealants
Servo AA7-2K Dispenser for Two Component Materials