Case Summary
GP Reeves prides itself on its ability to adopt and advance contemporary technologies and dispensing techniques. As the world transitions towards electrified power sources, energy storage is becoming an intensifying clean energy interest. GP Reeves recently had the opportunity to assist in the advancement of energy storage systems as we customized a solution to accurately deliver battery acid into part components for an industrial battery system. Our custom dispenser, nozzle, reservoir, and sensor units were able to accelerate the ability of the manufacturer to create solutions for some of the problems facing the renewable energy sector. GP Reeves was able to use cutting-edge technologies to power the growth of this escalating segment of the renewable energy industry.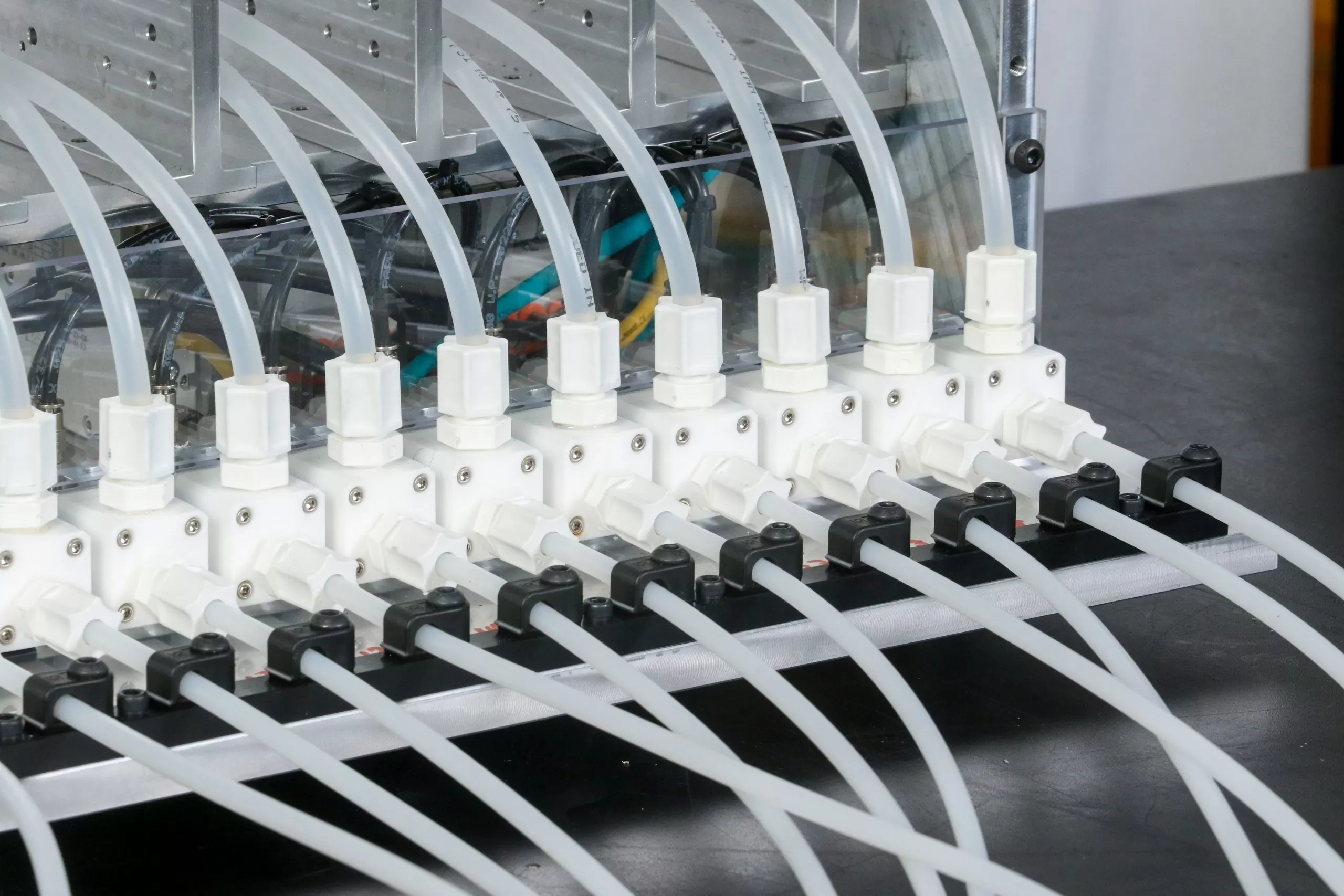 The Problem: Battery Manufacturer Utilizing an Ineffective Battery Fill Processes
As a vigorous shift to electrified technologies infiltrates global markets, clean energy storage solutions are becoming increasingly prevalent. Modernization of infrastructure power grids, broader support for renewables and emissions reduction, and a growing electric vehicle market have all contributed to a stronger desire for the deployment of reliable batteries to help with the integration of broader energy resources. The development of energy storage systems has been dynamic and strenuous, but the progress of electrified technology in recent years has made the advancement of energy storage innovations a promising global phenomenon.  
The Challenge: A Need for Absolute Accuracy with a Unique Material
One manufacturer of battery storage units was attempting to circumvent some of the challenges of this arduous renewables sector by creating an aqueous zinc battery solution. The firm's hope was that this eco-friendly material would combat the higher costs, shorter lifetimes, and circuitry disadvantages associated with popular Lithium-ion battery options. However, regardless of how user-friendly their material is, they, like many other energy storage developers must battle the adverse circumstances of handling chemical products. This includes optimizing employee protection for hazardous materials, ensuring battery acids are applied accurately, and protecting electrical components during the battery's production process. 
The company struggled with their original battery fill system due to its inaccuracy, lack of proper control, and its creation of excess costs. The system would under or overfill the battery components, rendering the battery storage system useless. The system also lacked an adequate method of volume control, so users would never know if the right amount of material was dispensed. Lastly, due to the improper specification of compounds, rust and damaging corrosion would impede on the running processes of the battery system. The manufacturer knew that to be more effective in their mission to advance clean energy, they would need a better solution for their battery fill procedure. 
The Solution: A Completely Custom Automated System
To address some of the challenges associated with energy storage production, GP Reeves was sought out to help distribute a challenging battery acid material to the cells of the manufacturer's innovative battery technology. Our unique capabilities allowed the team to configure a customized solution that could reliably handle and dispense the electrolyte additives and electro-active catalysts required by the battery's production process. Our engineers were able to configure a custom system that used an advanced sensor to track the volume of battery acid distributed to each component. This allowed the end user to monitor and better control the amount of material dispensed into the battery cell components. 
Our team was able to develop an advanced flow path assembly to ensure the aqueous electrolyte battery acid developed by the manufacturer would be able to reliably dispense from a GP Reeves custom-made pressure pot to customized battery fill nozzles. The custom-built dispensing equipment comprised of 20 linked controls communication systems which enhanced the efficiency, effectiveness, and speed of the battery production process. Our dispensing system helped the company to improve standards for power density and run-time. The automated components of the system also allowed the company to reduce its concentration of labor and the amount of time needed for their product's overall manufacturing time.  
End Results: Advanced Battery Fill System and a Clean Energy Solution
Our unrivaled customization abilities allowed us to create a system to deliver non-hazardous materials to an energy storage solution that continues to propel the renewable technology industry. This project allowed GP Reeves to showcase its passion for advancing and evolving our own equipment so that we can successfully propel yours. The dispensing technology developed by GP Reeves allowed for the advancement of an unequaled type of efficient energy storage technology. As interest towards alternative energy solutions continues to grow, GP Reeves can continue to utilize its 50+ years of dispensing expertise to solve the challenges of this revolutionary industry. 
Interested in a Custom Application?
Fill out the form below and we'll follow up with you!