Custom Lubricators
In addition to our standard chain conveyor lubricators, we also offer fully custom lubrication systems to meet the specific needs of a wide range of industries
Features and Benefits
Optional autofill reservoirs remove the need for your team to manually fill the out of reach units.

Reduces downtime and manual labor in lubricating conveyor chains.

Lubricators can dispense oil with viscosities from ISO 2 to ISO 100.

Airless shot nozzles include a check valve to prevent unwanted material bleeding. 

Positive displacement dispensing guarantees the same amount of oil is dispensed everytime, regardless of temperature and viscosity changes.

Shot placement technology ensures oil is dispensed in the correct spot every time.
Product details
Oil lubrication can be an expensive and labor-intensive process. GP Reeves hopes to relieve some of the hassle associated with conveyor lubrication by providing an offering of custom lubrication systems. GP Reeves has configured lubricators for a range of industries and works continuously to provide oil lubrication that will lead to long-lasting and supported equipment. From processes that distribute oil lubrication at poultry farms to heavy duty construction facilities, GP Reeves has researched and executed the best methods for precise conveyor lubrication. 
GP Reeves specializes in custom equipment and cutting-edge accuracy. To see how this is exemplified across our project scope, take a look at our custom dispensing projects video!
SS6000 Series Enclosed Track Conveyor Chain Lubricators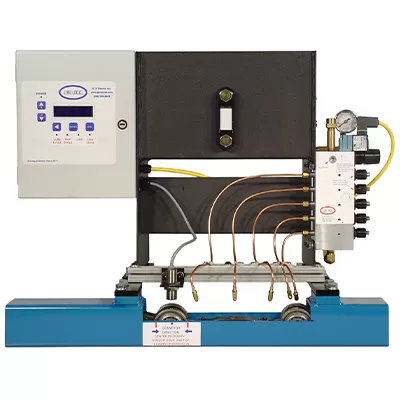 I-Beam Conveyor Chain Lubricator
SS6300 Series I-Beam Conveyor Chain Lubricators