GSS/GSSM Oil Dispensers
GSS and GSSM oil dispensers have been engineered to quickly and repeatedly distribute oil outputs of less than 0.066 cc.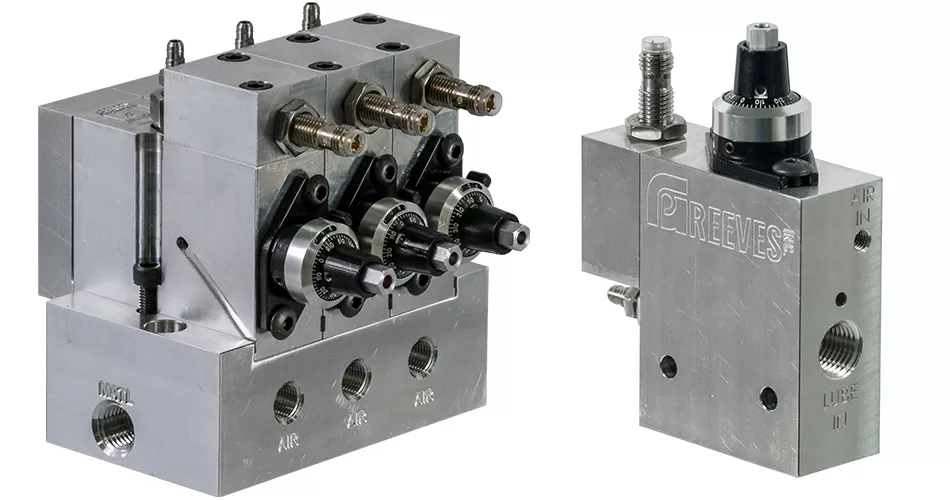 Features and Benefits
Utilize positive displacement to accurately perform despite changes in temperature or viscosity.

Perform up to 180 operations per minute.

Integral piston stroke sensors are available to confirm successful operations.
Configuration Options
Stroke Sensors

Luer Lock Fittings

Manifold Block Plate
Product details
GSS and GSSM dispensers use adjustable volumetric piston displacement to dispense measured shots regardless of temperature and viscosity changes. GSS and GSSM dispensers are known for their speed, as they operate up to 180 times per minute. Integral piston stroke sensors are available to confirm operations. They are available in stand-alone or manifold-mounted configurations; the maximum number of stations on a single manifold available is 10, but GP Reeves is eager to work to enhance customizable options if a different assortment of manifolds would be beneficial. These dispensers come standard with a basic adjustment assembly, though our Micro Dial is an option. The Micro Dial features over 400 labeled graduations simplifying the adjustment process.