Volume Confirmation for Oil
Volume confirmation devices confirm how much oil has flowed through a system component.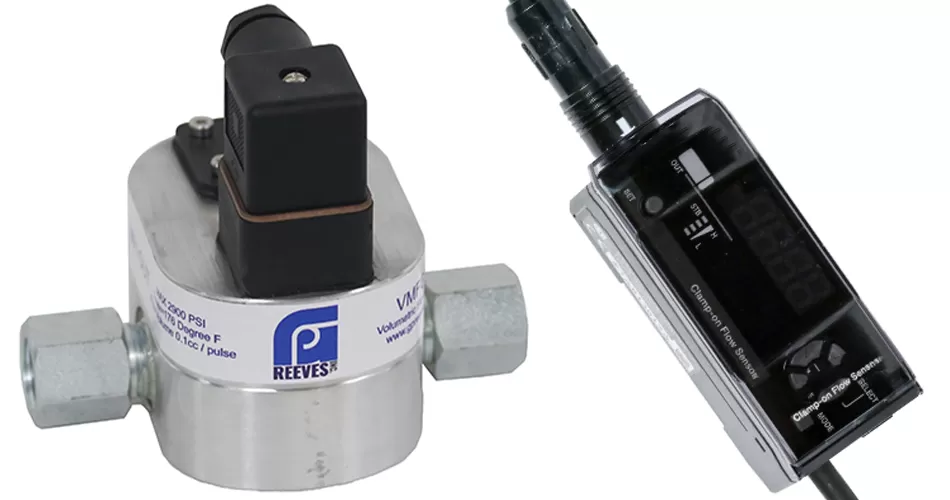 Features and Benefits
Volume confirmation devices can be helpful for redundant volume confirmation.

Using this device assists in measuring oil flow before a dispenser block

Allows for a continuous flow with oil applications
Configuration Options
Ultrasonic and Mechanical

Different Tube Sizes

Pressure Ranges

Various Port Sizes
Product details
Volume confirmation is critical if you want to verify how much oil has flowed through a particular device. They should be used as confirmation devices opposed to control devices in a system. GP Reeves offers two specialized oil-aligned devices that confirm volume: VMFG and UFS. Mechanical volume confirmation devices (VMFG) are designed to mount between an oil dispenser and its tooling. Mechanical volume oil confirmation devices work when oil flows through precise gears to rotate them. The output is sent every time the gear is rotated, and each rotation is equivalent to a certain volume depending on the model. Ultrasonic volume confirmation devices (UFS) are designed to be clamped around any nylon tubing in a system. Ultrasonic waves monitor oil flow and the volume dispensed is shown on the controller. In addition to these devices, our AA dispensers are positive displacement dispensers with air removal and constant sensor positioning, which allows them to confirm volume as well.