Volume Confirmation for Grease
With several specialized products in confirming volume, plus several dispensers that come standard with confirmation features, we are experts in volume confirmation.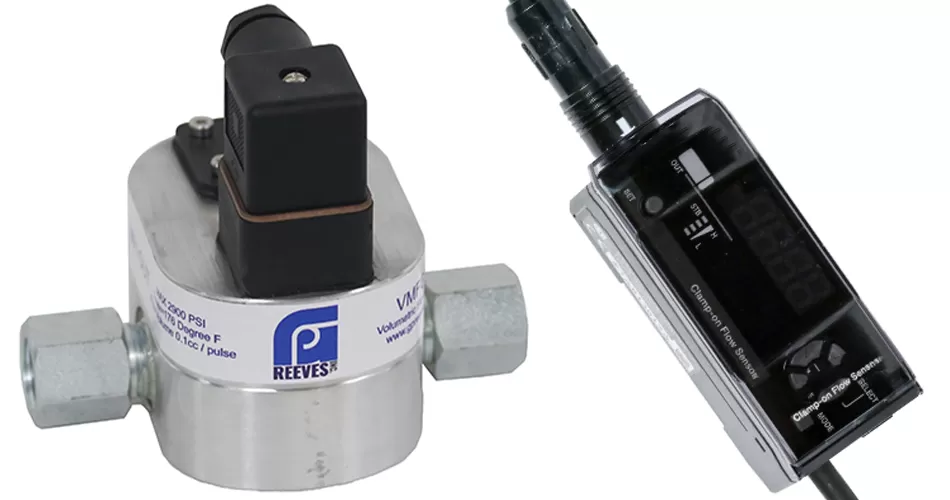 Features and Benefits
Volume confirmation devices measure grease flow before a dispenser block.

These devices are great for continuous flow applications.

Volume confirmation devices offer redundant volume verification.
Configuration Options
Ultrasonic and Mechanical 

Various Port Sizes

Assortment of Tube Sizes
Product Details
Volume confirmation devices are used to verify the exact amount of material that has flowed through a specific device. GP Reeves offers two specialized devices that confirm volume, VMFG and UFS. These devices can be placed anywhere in a system, though they are usually used between the dispenser and the end point tooling. These two devices should only be used for confirming the volume, not controlling it. In addition to these devices, our AA series contains positive displacement dispensers with air removal and constant sensor positioning, which allows them to confirm volume.
Mechanical Volume Confirmation
The VMFG is a simple to adjust device that confirms volume using gears. There are several sizes available that repeatedly confirm a specified volume via a digital output. VMFGs allow for continuous flow and create a minimal production footprint. These devices don't work well with contaminated material and shouldn't be used to detect air bubbles.
Ultrasonic Volume Confirmation
The UFS is an ultrasonic device that clamps onto nylon tubing and measures the material flow without disturbing it. This device is able to detect air bubbles and correct the reported volume to factor them in. Two signals facing opposite directions are being simultaneously monitored, allowing consistent measurement regardless of external factors. It's important to note that these devices should not be used with material that has a separation percentage over 2%.