Pneumatic AA Dispensers for Adhesives and Sealants
Pneumatic AA dispensers have been expertly designed for use with moisture or UV cure materials.
Features and Benefits
Pneumatic dispensers work well for adhesive and sealant applications requiring recipe rate control.

Blackout covers featured on the AA4 Pneumatic Dispenser protect against UV curing in the dispenser.

A solvent cup protects against moisture curing in the dispense chamber.

Patented air removal technology ensures only airless adhesive or sealant material is dispensed into your manufacturing process.

Flow-through design reduces the pack out of material.
Configuration Options
AA4 Pneumatic Dispensers for UV Cure available in a variety of configurations:
Low Temperature Heating

Nitrogen Blanket

Mounting Plates

Communications (EthernetIP, PROFINET, Sub-D)

Volume and Flow Rate
Product details
Pneumatic AA dispensers for adhesives and sealants allow for PLC volume and rate control without the added cost of a servo. These dispensers have a volume range of .45 to 480 cc with a variety of size and flow options. Pneumatic AAs can be used for multiple dispense sizes and are recommended for continuous flow applications. These PLC controlled dispensers detect and reject air and dispense adhesive and sealant materials at controlled rates for even distribution. AA dispensers feature a closed loop system that compensates for volume errors.
We offer two versions of our pneumatic AA dispensers for adhesives and sealants. The AA5 dispenser is designed for dispensing moisture cure materials and features a solvent cup around the metering rod to act as an airtight barrier. Our AA4 dispensers are designed for dispensing UV cure materials and feature blackout covers to block light where the rod is exposed as well as the solvent cup. Optional nitrogen blankets and low temperature heating is available to further protect your materials.
Servo AA Dispensers for Adhesives and Sealants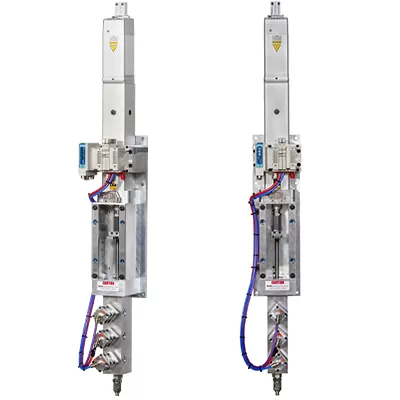 Servo AA7-2k Dispensers for Two Component Materials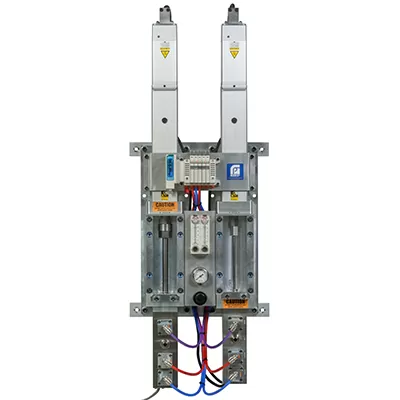 GPMD12000 Adhesive and Sealant Dispensers